15.7.11
Roger 10-4 in Weise7
10.6.11
Electromagnetic Cityscape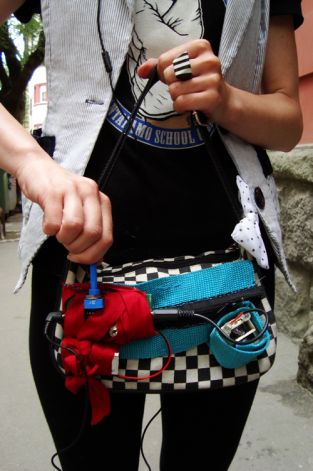 Electromagnetic Cityscape
, a
Roger 10-4
workshop that
Sabrina Basten
and I gave @
Napravi me!
(or Make me!) in Belgrade, Serbia. Make me! is a festival that features a series of workshops on building and using different DIY devices, with a critical reflection on the presence of technology in public space.
Image shows one of the participants' wearable 'sniffing' device embedded in a handbag (complete with inductor mic and adjustable amplifier with electric blue potmeter!).
Workshop dates: 10-11.06.2011
Libellés : electromagnetic, free software, napravi me, Roger10-4, workshop
13.5.11
Liwoli, do you copy?
24.4.11
FLOSS narratives
11.3.11
DOGTIME the shortcut
8.11.10
Workshop: Initimacy over Distance
3.11.10
next performance...
17.6.10
White Smoke lecture / book presentation at Designhuis
25.5.10
aether9 presentation / residency
6.5.10
WhiteSmoke publication/exhibition
15.4.10
presentation / workshop @ liwoli 2010
7.4.10
upcoming aether9 performance @ arti (a'dam, NL)
6.3.10
write-up - threads/ and studioXX
5.2.10
residency @ studioXX
27.11.09
Re:live conference | publication
20.11.09
TRIKNICS
22.10.09
aether9 seance in berlin coming up...
25.9.09
Afrikaandermarkt Big Band
17.9.09
whispers from the garden
16.8.09
8.6.09
/ETC Umeå
12.5.09
NIMK jubileum workshops
28.4.09
weekend spent making music from components :)
30.3.09
Workshop Portable Pixels and Worn Out Sounds @ montevideo (or Netherlands Media Art Institute)
25.3.09
forgot to blog for ADA day!